Sunglasses are a great way to protect your eyes from the sun, helping prevent the development of several eye conditions. It makes sense to wear your sunglasses when out in the sun, but should you wear them more consistently?
Continue reading to learn more about sunglasses, including 5 reasons you should wear them more often.
5 Reasons to Wear Your Sunglasses More
While sunglasses have many benefits, they can feel like a pain to carry everywhere. Many people may think sunglasses are only necessary for the summer and spring, but they have year-round benefits. Besides protecting you from the sun, sunglasses can prevent irritation and potential damage from the elements, avoid headaches, and help you enjoy the outdoors more.
Here are 5 reasons you should wear your sunglasses more.
Protect Yourself From Sun Damage
UV-blocking sunglasses can help protect you from several health conditions, such as cataracts, skin cancer, and age-related macular degeneration.
Eyelid skin cancer
Eyelid cancer is a general term to describe several types of cancer that occur on or within the eyelid. Cancer typically appears in the form of a tumour on the eyelid's outer surface, developing from fat and sweat glands. Types of eyelid skin cancer include basal cell carcinoma, sebaceous carcinoma, squamous cell carcinoma, and melanoma.
You increase your risk of developing eyelid cancer each time you expose yourself to the sun without effective eye protection.
Snow Blindness
Snow blindness, or photokeratitis, can occur when UV rays reflect off of snow, ice, water or emit from light sources like tanning bed lamps. You put yourself at risk of this condition when you don't wear suitable sunglasses. In Canada, you shouldn't only take precautions when out doing winter activities—anyone living in a snowy climate should wear UV protection.
Photokeratitis can lead to several uncomfortable symptoms, including:
Irritation
Pain
Redness
Light sensitivity
Watery eyes
Blurry vision
Cataracts
A cataract is the clouding of your eye's lens, typically occurring due to age. While cataracts may not affect your vision at first, they can cause you to struggle with reading, driving, and other everyday tasks. This condition happens to almost everyone with time, but exposure to UV light can accelerate cataract development.
When cataracts begin to affect your eyesight, surgery is often the only option to restore your vision. While cataracts aren't preventable, you can slow their growth by protecting your eyes from UV exposure.
Age-related macular degeneration
Age-related macular degeneration (AMD) is a condition that causes the progressive decay of the macula, the part of the eye responsible for your central vision.
The macula begins to thin with time, causing you to lose your central vision. However, your peripheral (side) vision remains unaffected. There are 2 forms of this condition: wet and dry AMD.
The risk of developing AMD commonly increases with age. However, someone who experiences extensive UV exposure has a higher risk. Protecting your eyes with UV-blocking sunglasses can lower your risk of developing this condition.
Pterygium
Pterygium, or surfer's eye, is tissue growth on the conjunctiva, the clear tissue lining your eyelids. While this condition isn't typically serious, it can irritate and lower your quality of life. Pterygium typically develops due to extensive exposure to UV light.
Protect Yourself From the Weather
While the sun can cause significant damage to your eyes, it isn't the only thing to worry about. Snow, sand, wind, and dust can irritate and damage your eyes. A common concern when spending time in the snow without sun protection is snow blindness.
Sand can enter your eyes on a windy day, irritating or damaging your cornea. Wind and dust can irritate or dry your eyes. The best way to protect your eyes from the elements is to wear wraparound sunglasses frequently.
Enjoy the Outdoors Without the Need to Squint
If you enjoy spending time outdoors, a quality pair of sunglasses is something you should invest in. You can not only protect your eyes from the sun but also enjoy your surroundings more. Different kinds of sunglasses can help reduce glare or provide more contrast, helping you see more clearly.
Prevent Headaches & Migraines
You may not be aware, but bright sunlight can trigger migraines and headaches. This reaction occurs due to light sensitivity, which causes pain or irritation.
Wearing sunglasses can help prevent these headaches from occurring as frequently. Speaking with your optometrist can help identify the best types of sunglasses for your needs.
Drive Safer by Reducing Glare
When rain or snow hits the highway, light can reflect off of these surfaces and send light rays into your eyes. When light reflects directly into your eyes, it's known as glare, which can cause eye strain and make it harder to see when driving.
A pair of polarized sunglasses can help reduce glare when driving, making it easier to see what's in front of you.
There are many reasons to wear your sunglasses more often. Besides the aesthetic features sunglasses offer, you can protect your eyes from the sun and the elements, prevent headaches and migraines and improve your safety when driving.
If you're interested in quality sunglasses, what should you look for?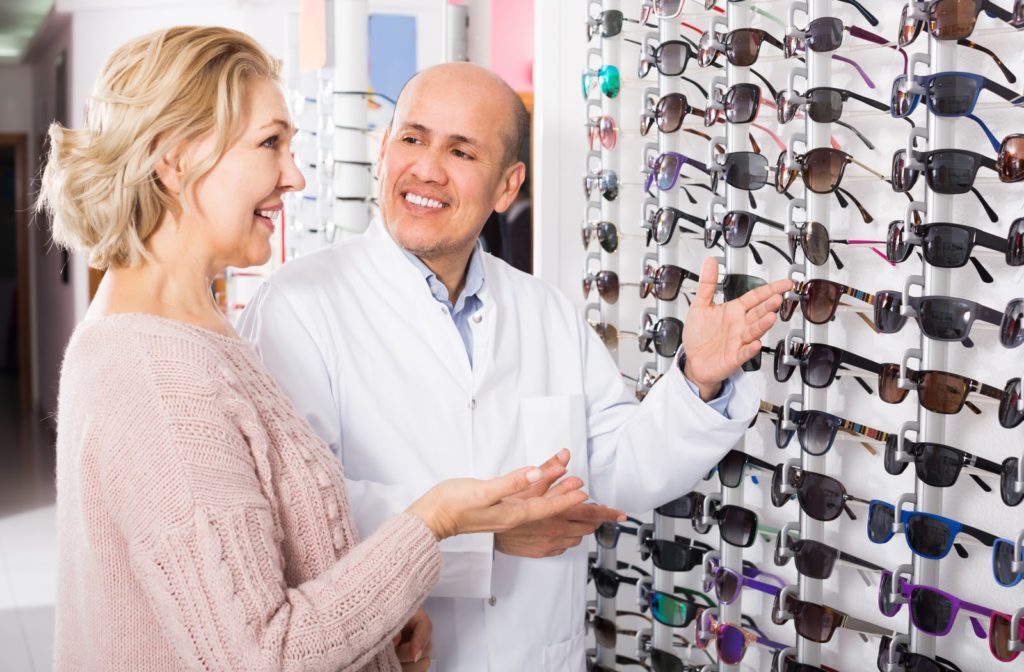 What to Look for When Choosing Sunglasses
When choosing a pair of sunglasses, consider looking for one that provides the following:
99–100% UV blockage
Lenses with the same level of darkness
Lenses that provide proper colour balance
A frame that fits the shape of your face well
Finding the perfect pair of sunglasses can seem complicated with so many options. However, your optometry team has the expertise to help find sunglasses that meet your vision needs.
Contact your optometrist if you're looking for quality sunglasses.