Regular eye exams are vital for your ocular health. For children, the eye exam helps to ensure their eyes are healthy and can diagnose any potential conditions early.
These exams can be stressful if you aren't used to them, so how do you prepare your child for their eye exam? Let's learn more about some tips and tricks to prepare you and your child for their examination.
How to Prepare your Child for their Exam
For many of us, an eye exam is a regular occurrence in life. For your child, it can be a stressful and possibly confusing experience. How do you prepare your child for their eye exam and ensure they feel comfortable? Try the following tips to help your child understand their upcoming visit:
Keep Them in the Loop
Some things aren't meant to be surprises, and news of an upcoming appointment shouldn't be withheld from your child. After making your appointment, inform your child of the date and time of the examination (give a few day's notice).
Prepare Yourself
You can't prepare your child if you aren't prepared yourself. Eye exams are tailored to fit the needs of the individual and procedures and tests may vary depending on the patient's age.
Preschool children have more complex eye examinations than toddlers, so understanding the possible procedures can help you prepare your child effectively.
Being prepared can also include finding the right practice for your family. Finding a family-focused optometry clinic can ensure the best care is given to your child. Preparing their medical history is never a bad idea either.
List Their Concerns
Ask your child if they have any concerns of their own. They may be experiencing issues they haven't communicated to you. Mention any fears or anxieties they have and you and the optometry team can work to reduce them as best as possible.
Ask About Being Present
Your presence can help calm your child's nerves, but make sure to confirm you're able to join. When you book your appointment, ask if you're able to be with your child, or if there is any reason you can't.
Explain What Will Happen
If your child is old enough to understand, explain to them what the optometrist will do during the exam. Explain how the doctor may have them look through different lenses, stare at different symbols or shapes, and how they may have dilating eye drops administered.
Showing your child how these procedures work can reduce any potential anxiety or confusion. Understanding the examination process is important, so what happens in a pediatric eye exam?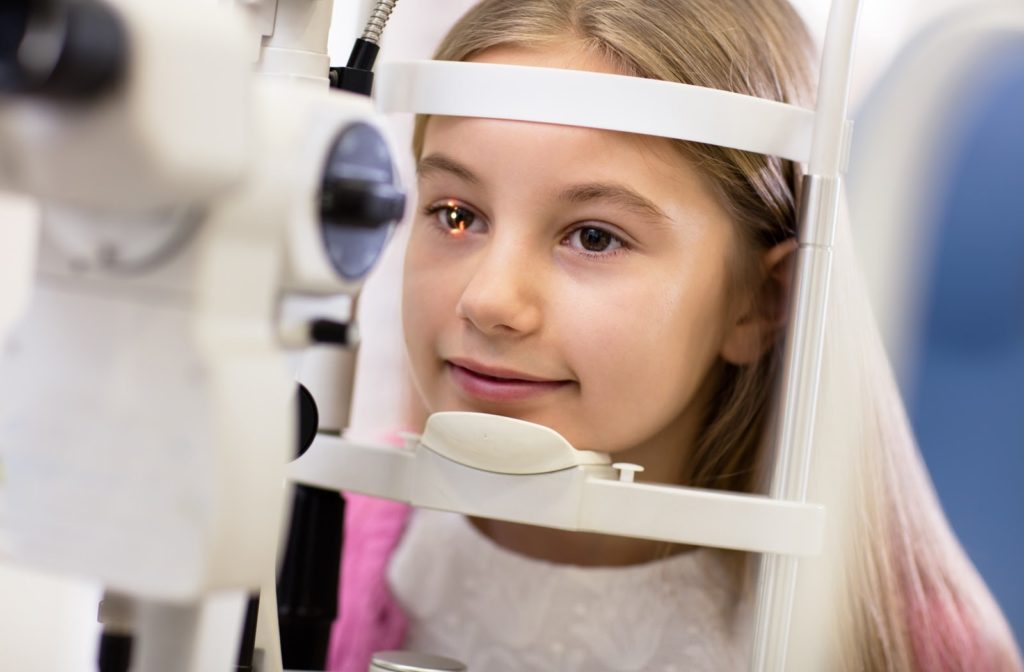 The Pediatric Eye Exam
A pediatric eye exam is vital to ensure your child's ocular health. Approximately 80% of learning is visual for children, so healthy eyes are important for your child's development. A comprehensive eye exam differs depending on the patient's age, but they all follow a similar procedure:
Medical History
Your optometrist will review your child's medical history, including birth, illnesses, and developmental milestones. They will also discuss your family's eye history.
You will actively participate in this section of the exam, and be prepared to discuss how your child is doing in school and other activities. You may also be asked if you've noticed any issues with your child's eyes.
Visual Acuity
Visual acuity measures the sharpness of your vision. It indicates the amount of detail someone can see. Young children may not be able to identify letters and numbers yet, so pictures and symbols are typically used in a child's visual acuity test.
Eye Coordination
Eye coordination is tested to assess a child's eye movement, alignment, and tracking. To determine this, an optometrist may observe the movement and fixation of your child's eyes. Specialized glasses may be used to test depth perception as well.
Refraction
Refraction tests look for any focusing issues such as nearsightedness (Myopia), farsightedness (Hyperopia), and astigmatism. The way this is tested depends on your child's age.
Younger children typically have a light shone into the eye while different lenses are used to focus the reflection of the retina. Eye drops may be used to dilate the pupil to make the procedure more accurate.
Older children may look through different lenses to identify which images provide them with the clearest picture.
Eye Health
Eye health focuses on examining the structures of the eye. Different instruments shine light into the eye to magnify the view for the optometrist. Eye drops may be utilized to provide a more accurate view of your child's eye. This part of the examination can include testing peripheral and colour vision.
Follow-Up
After the exam, your optometrist will discuss their findings with you. This can include relevant history, concerns, and advice for potential treatments.
All of these aspects are a part of a comprehensive eye exam for your child, and ensure any conditions or problems are identified. Your optometrist will work with you to make sure your child's eye exam is successful.
Visit Your Optometrist
Your child's eye exam can be stressful, but it doesn't have to be. Whether it's time for your child's regular eye exam or they're experiencing discomfort, book an appointment with your optometrist.