When you come in for a contact lens exam and fitting, one of the first things we determine is what your eyes need. In the past, contact lenses could only address common refractive errors like nearsightedness, farsightedness, and astigmatism, but contact lens technology has since advanced in staggering ways. Now more and more people are discovering that they can finally wear contact lenses with comfort and ease.
At River Heights Eye Care, we've expanded our contacts selection to include specialty lenses like sclerals and hybrids. However, the type of contact lens you wear depends on what issue is affecting your vision and eye comfort. Today, we're going to take a look at the difference between these two lenses, compare their advantages and disadvantages, and provide you with a clear picture of what may be best for you.
For advice on addressing your personal needs, be sure to contact our team and book an appointment. Our eye care team will be happy to help you during one of our comprehensive eye exams!
What Are Sclerals & Hybrids?
Our very first step is to define these 2 different types of contact lenses. Specialty contact lenses come with various benefits, but what may be great for one person may not be a good choice for another.
Scleral Contact Lenses
Scleral contact lenses have a larger design than traditional contact lenses. Instead of resting on your cornea, scleral contacts sit on the whites (the sclera) of your eyes. Their larger shape allows them to "vault" over your cornea, making them a fantastic choice if you struggle with corneal conditions like keratoconus, corneal scarring, or complications from laser eye surgery.
Scleral lenses may also be a great choice if you have a high refractive error like high myopia, high hyperopia, or high astigmatism. We may also suggest scleral contacts to help you comfortably see while living with dry eyes.
Hybrid Contact Lenses
Hybrid contact lenses combine 2 different materials: a rigid gas-permeable centre with a soft hydrogel skirt around it. While not the same size as scleral lenses, hybrid lenses can also provide comfort and clear vision for people with corneal irregularities, corneal astigmatism, and dry eye.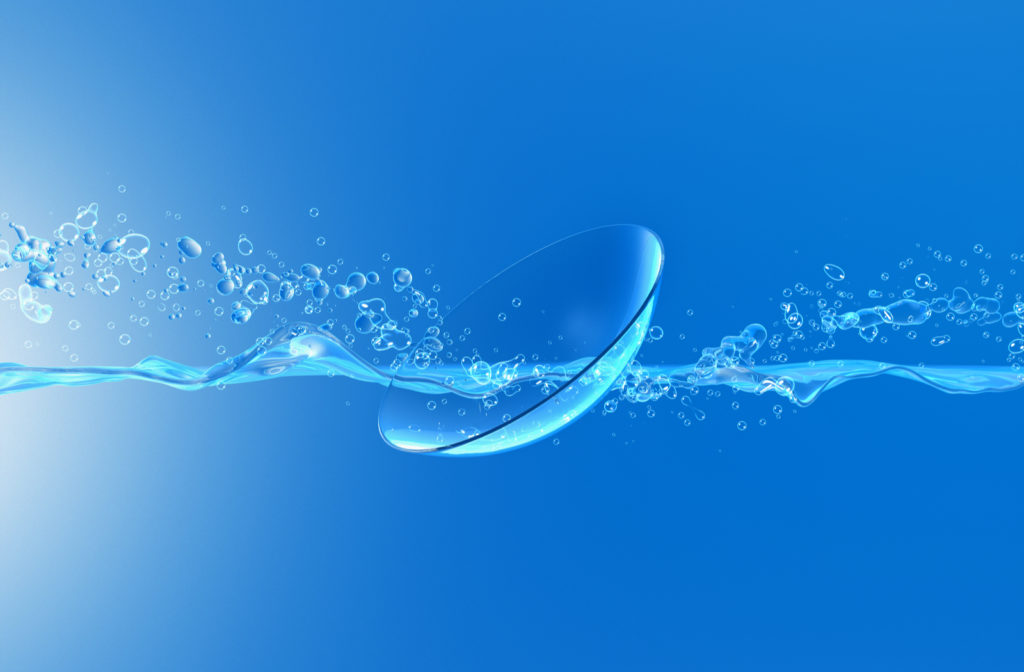 What Do They Do Differently?
Now it's time to get into the nitty-gritty: what do these contact lenses do differently from one another? It may seem like they have a lot of advantages in common–especially for providing comfortable, clear vision for patients struggling with corneal issues or dry eye–but there are differences.
Scleral contacts are well known for being incredibly comfortable to wear for long periods. On top of this, scleral lenses can come in a smaller size, like mini-scleral and semi-scleral lenses. However, sclerals may not provide the same crisp vision that hybrid contacts can provide.
Speaking of hybrid contacts, many people find that even though hybrid lenses can provide sharper vision, it might be more challenging to find a comfortable fit. Hybrid lenses also may not be a great choice if you struggle with lenticular astigmatism.
Addressing Dry Eye
Dry eye is a common problem Canadians face, and cases seem to be on the rise. Both scleral and hybrid contacts have unique properties that make them better for someone with dry eye, but each of these contacts approach the issue differently.
As we mentioned earlier, scleral contact lenses "vault" over and cover your entire cornea, which creates a space between your cornea and contact that helps keep your eyes hydrated. One study found that scleral lenses can also decrease the need for eye drops.
Hybrid contacts feature a hydrogel skirt that may be more comfortable to wear for some patients when managing dry eye symptoms.
Which One is Right For You?
At the end of the day, the only way to truly know if scleral or hybrid contact lenses are right for you is to have a comprehensive contact lens exam and fitting. Our team will work closely with you to determine your issues and how contact lenses can best serve your needs.
We're ready to see you! Book your appointment today.