If you are curious about trying contact lenses, you will need to get a contact lens specific eye exam. A contact lens specific eye exam involves extra measurements not included in a comprehensive eye exam that will allow your optometrist to get a detailed map of your eye and determine the best contact lenses for your daily use.
How are Contact Lens Specific Eye Exams Different?
Comprehensive Eye Exams
A comprehensive eye exam involves various tests used to determine the visual acuity of your eyes. This gives your optometrist an idea of what your current prescription is and can help assess the current state of your eye health. Some of the tests your optometrist will perform are:
Contact Lens Eye Exams
Compared to a regular comprehensive eye exam, a contact lens specific eye exam involves additional measurements that will help determine the shape and size of your eye's surface and what kind of contact lens is best for you. During a contact lens eye exam, you will be able to input your preferences for colour, how often you want to replace your contact lenses, and how hard or soft you want your contact lenses to be.
Additional Measurements for Contact Lens Specific Eye Exams
Cornea Measurements
During a contact lens specific eye exam, a device called a keratometer will analyze light reflections from your cornea, and be used to measure the curvature of your eye's front surface. Additional computerized measurements may be performed on your cornea by using a corneal topographer. This will give your optometrist precise details about your cornea, and once again involves measuring how your eye reflects light.
Pupil and Iris Measurements
This test is quite simple: your optometrist will use a special ruler or another measuring device with specific pupil and iris sizings to figure out the size and shape of your pupil and iris. This will help choose contact lenses that are the proper size for your eyes and determine what type of coloured contact lenses you can wear if you want them.
Tear Film Evaluation
This test is used to determine if you can sufficiently produce enough tears to keep your contact lenses moist and avoid your eyes drying out. If your eyes are too dry and you cannot produce enough tears, then contact lenses may not be comfortable or safe for you to wear. If you only experience mild dryness, then some special contact lenses exist that will help keep your eyes from completely drying out.
Contact Lens Fit Evaluation
A biomicroscope, or slit lamp, can be used to evaluate the health of your cornea. This apparatus magnifies the view of your cornea, which helps your optometrist determine if you can wear contact lenses without feelings of discomfort. If you already wear contact lenses, this test can help determine any issues that your current lenses are causing to your eyes.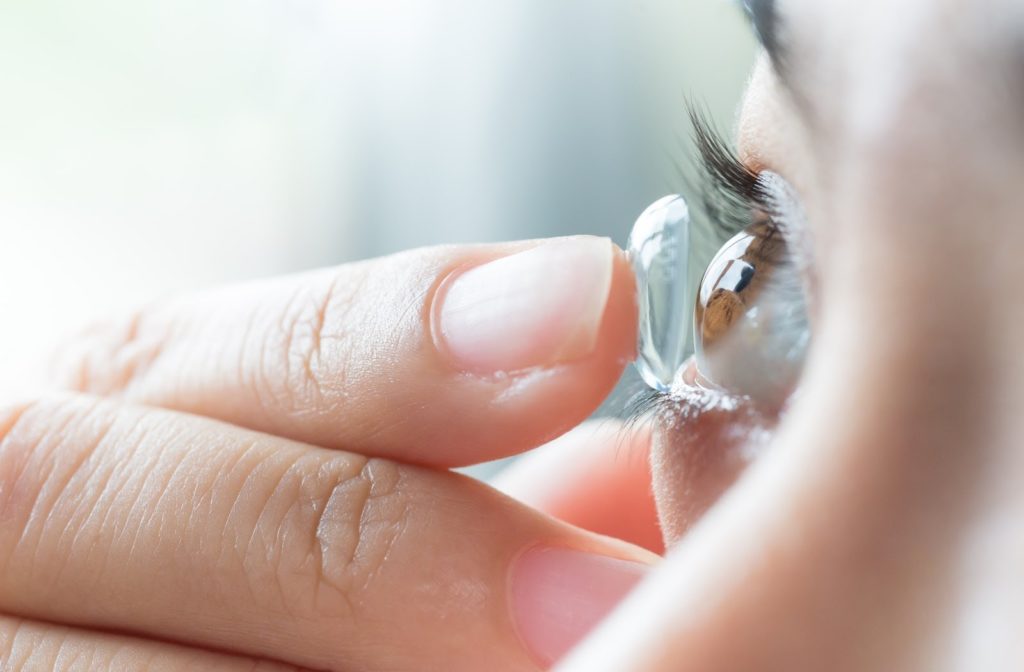 How Often Should You Get a Contact Lens Specific Eye Examination?
Regular Comprehensive Eye Exams
Ages 19-64: Once every two years
Ages 65 & over: Once per year
Children ages 5-18: Once per year
Contact Lens Specific Eye Exams
If you have just had your first fitting, after a certain trial period recommended by your eye care professional another evaluation will be necessary. If your current contact lenses are bothering you, you can ask your optometrist about switching brands or types of lenses.
If your current contact lenses are comfortable, then a contact lens specific eye exam should be performed on an annual basis regardless of age.
What Type of Contact Lenses Should You Get?
Your optometrist will recommend the best contact lenses for the shape of your eyes, but there is some leeway in which you can choose your preferred lenses if it will not harm the health of your eyes. Some of the attributes you can choose from are the softness of the contact lens, the colour of the iris that the contact lens will show, and the desired frequency of disposal/replacement.
If you suffer from an eye condition, a specialty contact lens might be necessary. If you have astigmatism, dry eyes, or keratoconus, then ask your optometrist about what type of specialty contact lenses could help alleviate your specific issues.
Book an appointment to get more information on contact lenses and contact lens specific eye exams.